Belgarin Nav Nox
From AmtWiki
"I aint limping motherfucker. It's called swagger!"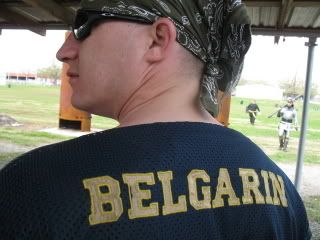 Biography
Belgarin started in the Burning Lands in early '88. After a few years there, he transfered to Dragonspine where he stayed until joining the Army in 1997. He was a member of the Celestial Kingdom until 2005. He relocated in AUG of 2005 to the Kingdom of the Rising Winds. Belgarin stayed there for a year befor he moved once again. Belgarin was residing in Goldenvale where he is a member of the Duchy of The Bitter Coast Until he returned home to Texas and the Celestial Kingdom. Belgarin was elevated to the peerage as a Knight of the Flame in 1998, a Knight of the Crown in 2000, and most recently as a Knight of the Sword at Great Eastern XI in 2009. Belgarin has in recent years begun a crusade to eradicate funoodle and other horrible weapons from the game. With the aid of a band saw and a table router he can often be found with easy to assemble kits for both flat blades as well as omni bladed weapons. Belgarin would much rather you buy a weapon from Brennon if you are not in an area he can be found, rather than continue to use pathtetic materials. At one time he was described by Michael Hammer of God as being the meanest crown knight in the game and also as the best fighting war hero around.
Upon moving to the Rising Winds, he was also proclaimed a Knight of the Sword from the Iron Mountains Even though he's never lived there. However, the veracity of this award is in some doubt.
Affiliated Groups
Belgarin is one of the High Priests of the Chosen as well as a member of the GCA.
Fairly well known facts
Belgarin is short, but taller than Clalibus
Belgarin moves an awful lot
Belgarin is normaly dating a woman light years out of his league
Belgarin has actually been kicked out of a country
Belgarin's Theme song is Warrior's Code by Dropkick Murphy's
Belgarin is also known as Johnny Pump'n'Snore
Belgarin got banned from Harvest War for eating babies. Alive.
Belgarin is known to have, at various points and times, been too drunk to remember his name.
Belgarin was once a stunt double for Wee Man.
Belgarin is smarter than Forest Gump....but only marginally.
Belgarin is so vain that he thinks that the song is about him.
Belgarin is one half of the world midget tag team champions.
Belgarin his favorite weapon is a shoe.
Belgarin once beat a newbie with his Crowbar of defiance, after which he cried about hurting an innocent.
Belgarin has been known to say "I'm two beers and a Tikitorch away from becoming an earth mother."
Belted Line
Belted Family
Notable Accomplishments
Additional Images
---
Read about other Knights of the Celestial Kingdom here