Thor Tandræbe
From AmtWiki
Duke Sir Thor Tandræbe, Defender of the North
"He is Thor, and you are Not."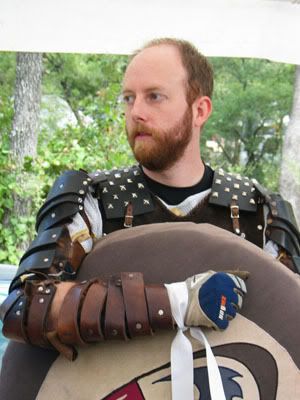 Biography
Thor began his Amtgard career in the Northern Holdfast (a fledgling Shire in the Empire of the Iron Mountains at the time) in early 1995. After serving as Baron, as well as Duke of the NH, Thor eventually graduated to the position of Emperor of the Iron Mountains, where he was the first Monarch under the revised Iron Mountains Corpora, and the Floating Crown that resulted. Currently residing in the Iron Mountains (duchy), you can catch him swinging foam on the field on the weekends.
Affiliated Groups
Thor is a member of the Sacred Order of the Righteous Brotherhood of the Chosen, Holy Warriors of BoB the Unforgiving, and is one of few non-CK members of that fighting company today.
Belted Family
Sir Asmund Heimdale Haroldson (4/28/84)
Sir Deth The Dire Hearted (7/14/84)
Sir Morluk the Merciless (12/10/83)
II. Sir Nashomi the Silver Wolf (10/22/83)
Sir Thanos Darkside (10/22/83)
Notable Accomplishments
Granted the title Knight of the Sword in June of 2000 by Emperor Jetara Starlemaine, Thor has held the position of Imperial Champion some 9 times, and Imperial Weaponmaster 7. He also holds the titles of Warmaster, and War Olympian. Thor is renown for his fighting skills, and most people consider him one of the top fighters in the game today.
Traditions
it's considered a tradition during Assassin Games to for people to Assassinate Thor, even though he's not part of the game, nor their assigned Target.
Additional Images
Link to image 2
More Information
Thor's Personal Website
Thor's LiveJournal/MySpace
---