Porkins
From AmtWiki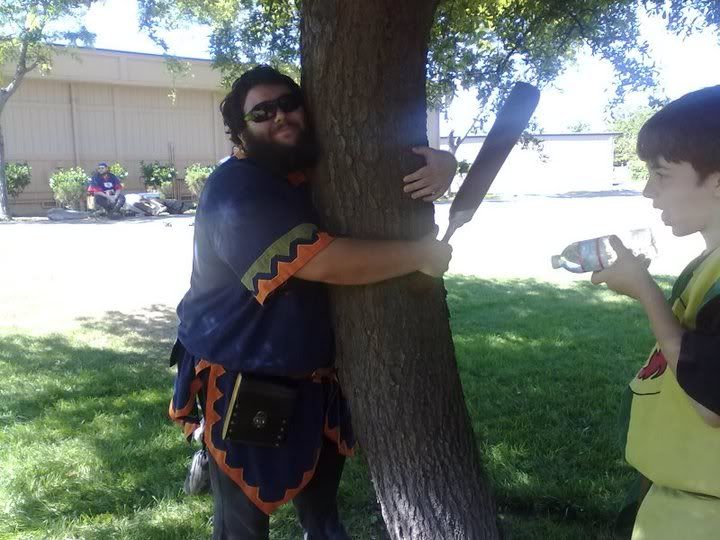 Porkins revealing his inner druid.
Biography
Titles
Sometimes referred to as "Saint" by the members of the flock of the Church of St.Porkins, as he is known to be the second coming of St. Porkins, though he has yet to be officially confirmed as such
Lord - Given by Duke Jace Darkholme - Duchy of Thor's Refuge, December 2012
Master Healer - Given by Duke Bear Bear - Duchy of Thor's Refuge, September 2011
Baron - Given by King Deimos - Kingdom of Westmarch May 2015
Affiliated Groups
Notable Accomplishments
Once fed bacon to Amtgardian's throughout the day from a single swine.
Won his freedom and an order of the gladiator in Thor's Refuges fighting pits.
Additional Images
Offices held
King of Westmarch November 2013 - November 2014 (two terms)
Duke of Thor's Refuge May 2013 - November 2013
Guildmaster of Reeves of Thor's Refuge December 2012 - May 2013
Prime Minister of Principality of Westmarch August 2011- August 2012 (two terms)
Guildmaster of Healers and Warriors of Thors Refuge November 2011 - May 2012
Guildmaster of Reeves of Barony/Duchy of Thor's Refuge May 2011- November 2011
Prime Minister of Thor's Refuge August 2010 - January 2011
Champion of Thor's Refuge May 2009 - November 2009
---