Ominique deMorray
From AmtWiki
"It's actually pronounced "Omi-f#@king-nique". It's just that the "f#@king" is f#@king silent"
Biography
Ominique, or just "Nique" to most, began playing Amtgard in 1993 at Eagleshire in Denton, TX. She served several terms early on as park Prime Minister and was a founding member of House Morrigan, a house dedicated to supporting and encouraging women on the Amtgard combat field.
She served a term as Emerald Hills kingdom Regent in 2001.
In 2013, Ominique and Logan T. Black founded the Shire of Bright Forge in north Plano.

Married to Logan T. Black Mother to Stormhawk deMorray Black Mother to Havoc deMorray Black
Affiliated Groups
Founding member of House Morrigan and House Lionesse. A member of the fighting company Sable Pride
Belted Family
Sir Nevron Dreadstar
Notable Accomplishments
Additional Images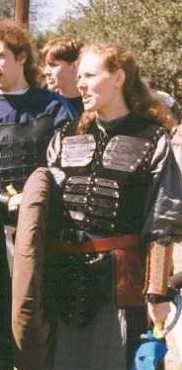 More Information
---