Misteslaus Harlstonovich
From AmtWiki
Archimandrite Ritsar Misteslaus Harlstonovich, of the Wetlands.
"Hristos Voskrese!

Biography
Misteslaus began playing Amtgard at Clan in the summer of 1996. He chose this name on the battlefield to avoid being named something else (which shall forever go unspoken)by "The Mad Hatter" a very good friend of Zane. He and Zane founded the Shire of Darkwater West in the Kingdom of Dragonspine in Portales, New Mexico which later shared the name with Darkwater East (now in the Kingdom of Neverwinter) Both groups enjoyed their work together at opposite ends of the wormhole. Darkwater West has been reorganized as the Shire of the Shining Dogs in the Kingdom of Golden Plains.
Misteslaus moved to the Wetlands in 1999 and took up residence on Galveston Island. He has played in the now defunct Isle of the Four Dragons, Stormwall and Granite Spyre. He is actively involved in the kingdom and enjoys regular music making with his friends and squires and men at arms.
Affiliated Groups
Belted Family
Once Squired to Sir Chewie of the Wetlands;
Squires: Zelph, Phlippi, Greensleeves, Kalyse, Darklight; and Valkyrie Tamara Cross;
Sgt. at Arms Greg the Tinker.
Former Squire Sir Dughan Serpent Knight of the Wetlands.
Notable Accomplishments
past Dragon Master of the Wetlands
Knight of the Serpent (Ritsar), Given by Dark Emperor Luke (sword was dropped by his knight, Sir Chewie) at his endreign on December 3rd 2005.
the Archimandrite of Octob 3amki (O-strov Zahm-khee) (a title equivalent to Baron)
Appointed as His Holiness Mar +Misteslaus (Harlstonovich) KGC, Patriarch of the Wetlands by Margul, II King of the Wetlands.
Sheriff of Darkwater West (6 reigns) and as
Regent of Stormwall (2 reigns)
DMA (Doctor of Musical Arts) in Sacred Music 1991 University of Memphis.
Ordained as an Oriental Orthodox Priest in 1996.
Books published through the Edwin Mellen Press:

A Genre of Hindusthani Music (Bhajans) as Used in the Roman Catholic Church;
A Sacred Musical History of an Orthodox Church in America;
Songs from Russian Traditions -- pending publication in the Spring of 2008;
In the Footsteps of Saint Thomas in India -- pending completion in the Spring of 2009
Additional Images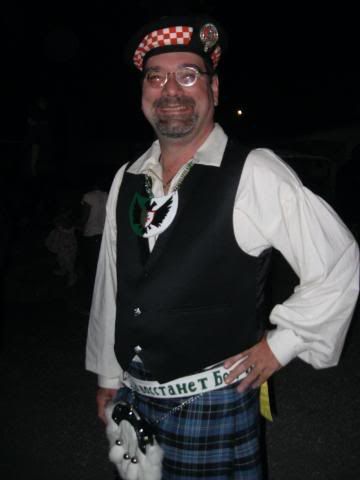 More Information
---