Joy
From AmtWiki
"F#@k your carrot! I am not your pony to be led somewhere!" -Joy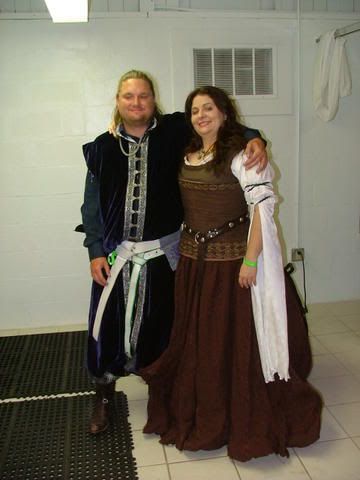 Joy, here with Evil Ryss, at Neverwinter Winter Coronation of 2006
Biography
Joy started in Amtgard in 1998. She first played at Darkwater East then moved to Falling Fire.
Affiliated Groups
Phoenix Guard Fighting Company
A Margarita Chick - her fruit is the peach
Belted Family
Joy is the former squire and before that, Man-at-arms of Sir Evil Ryss before Evil Ryss was welcomed into the peerage he was Squire to Sir Zodiac Darkjester, who was Squire to Sir Arion, who was squire to Sir Zircon. Joy's former squire is Casca.
Notable Accomplishments
Additional Images
Joy, Stinkfoot, and Kardore (from left to right) after Stinkfoot's knighting, Olympiad 2006.
More Information
Personal Website
Company Website
---