Hawklynn Stormcloak
From AmtWiki
"There is no problem that cannot be fixed with a liberal amount of cannon fire."
Biography
Hawklynn Stormcloak began his Amtgard career at the Mushroom Shrine in the Kingdom of the Wetland in 1996. In August of 2003, do to inactivity at Mushroom Shrine, he changed his home park status to Ironwood. In early 2004 he changed back to Mushroon Shrine in order to help Sir Feral Lynn revive the park.
In June of 2007 Hawklynn was voted in as the Mushroom Shrine's Prime Minister. Hawklynn held this position until January of 2008 when he and rest of Mushroom Shrine declared the park inactive. This decision was made because of failing park numbers and low visibility to the general public.
Hawklynn became a founding member of the now defunct Cairn Garneth at Dow Park located in Deer Park, Texas.
In 2003 Hawklynn joined the now defunct 4 Bard Harmony.
Affiliated Groups
Member of White Tiger Company
Member of Pirates of Stormwall
Belted Family
Notable Accomplishments
Additional Images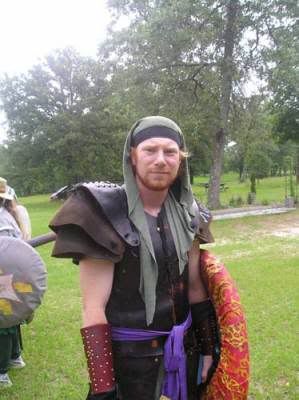 More Information
Personal Website