Gonzo
From AmtWiki
"Put on a shirt, ya damn hippie!" *pow* --Madame Bon Derriere
"Tomorrow, I'm going to go home and get wood."
"That's how I met Doogan." While referring to the song "Date Rape" by Sublime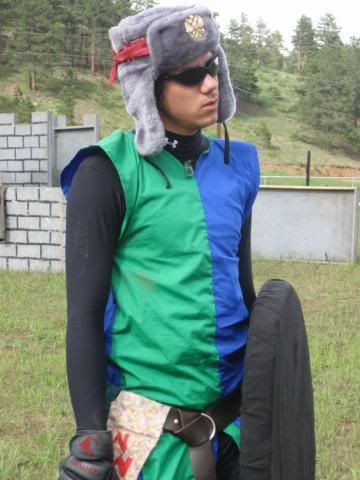 At Rakis 2009.
Bio
Dragged out by Cadooogan. A former member of 'Dooogan's Fun Noodle Fight Club. Known for various achievements such as bringing massive quantities of mattress quilting to the field intended for making armor (including a specially-decorated set for Woodstock) and making a madu with a Boy Scout neckerchief cover for the shield portion, as well as for his intense aversion to wearing closed shirts on the field.
Affiliated Groups
Belted Line
Notable Accomplishments
Member of Siar Geata's BOD, '09.
GM of Barbarians for Siar Geata, reign 6. 2/09 - 8/09
Prime Minister of Siar Geata, reign 6.5, 5/09 - 11/09
Kicks ass with double flail!
Additional Images

Image courtesy of Pandara. Neener neener.
More Information
---