Everfield
From AmtWiki
A defunct shire under the Kingdom of the Rising Winds located in Richmond, Indiana
Heraldry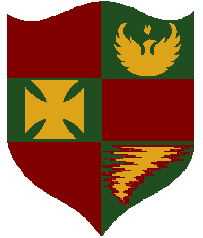 History
In 2006 Ferrum Crux formed in this chapter. After 2011 this park went defunct.
Contacts and Directions
(This chapter no longer meets and is now defunct.) This chapter use to meet on Saturdays at Glenn Miller Park on east main street(highway 40),in Richmond Indiana, right by the band shell on Roosevelt Hill at noon.
Fighter practice was held every week on Wednesday, starting between 12-1 pm at Glen Miller Park by the band stand, across from the artesian well.
---