Dorcas
From AmtWiki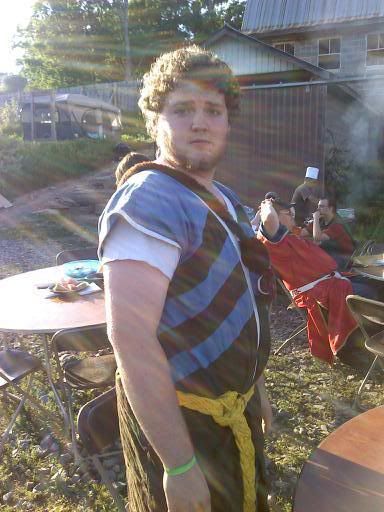 Biography
Is awesome.
"JUGS!!!"
Will occasionally play a dog named Bernard, as if he was a dog in a previous life.
Affiliated Groups
Notable Accomplishments
Belted Family

Dorcas is also suspendered as a Page at Arms to Khan Longbeard Joxar the Mighty, bowtied as a page to Lord Sanyo Terra, and cufflinked as a page to Laird Ceian MacNeil. He accepts yellow accessories in lieu of belts, hoping to one day be a fully accessorized page.
Positions Held
Guildmaster of Barbarians, Caradoc Hold, December 2009 - June 2010
Guildmaster of Reeves, Caradoc Hold, December 2011 - June 2011
Pro-Tem Champion of Caradoc Hold, October 2012 - December 2012
Duke of Caradoc Hold, June 2013 - December 2013
Ambassador of the Mighty Kingdom of Goldenvale (while playing in Blackspire)
Ambassador of the Adequate Kingdom of Blackspire (upon return to Goldenvale)
More Information