Christoph Dubois
From AmtWiki
---
"More people = more fun"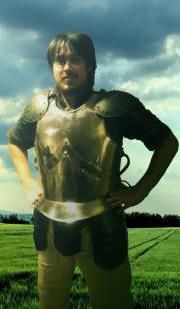 Biography
IC
Hello my name is Christoph Antoné La fleur-Dubois. At 10 I moved with my Father Antoné, Mother Christine and younger sister Sophie to London England. At 14 my family died in a mysterious house fire, and I was on the streets. Shortly thereafter I found refuge in a local orphanage. To my fortune the orphan mistress was married to a knight who taught me some basic sword techniques. At 16 I struck out on my own to find those responsible for my families death. I traveled to the northern reaches of the world where I joined with the Lupine Moon. After traveling south in my search I came to join my current fellow fighters in the deserts of Terra De Votum.
OOC
My name is Josh Kane. I have been playing amtgard since 2011 and enjoy every minute of it.
Affiliated Groups
Notable Accomplishments
Prime Minister for Terra De Votum during it's infancy.
More Information
---