Aylia Greenfire
From AmtWiki
Wardancer
Combat Ranking
Way Dancer
A&S Ranking
Way Dancer
"An indicative quote"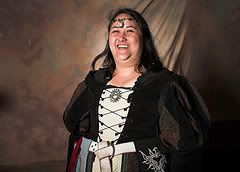 Biography
Former Monarch of the Celestial Kingdom
Affiliated Groups
founder of the Circle of Greenfire.
Belted Family
Former Squire to Mistress Wynd, her Squires include Scarlet, Emerald, and Hazel Relanna. And Step Knight to Akara.
Belted Family===
Notable Accomplishments
Created Knight of the Flame upon her stepping up to her November 2000 reign as Monarch, by the stepping down Monarch Mystress Wynd.
Belted as a Knight of the Crown As she stepped down, in May of 2001, bestowed by King of the Celestial Kingdom Esoum.
Additional Images
Link to image 1
Link to image 2
More Information
Personal Website
Company Website
---
Read about other Knights of the Celestial Kingdom here