Andacar
From AmtWiki
Sir Andacar, Son of Feeran, son of Fandos, Lord of Keccia, of Dragonspine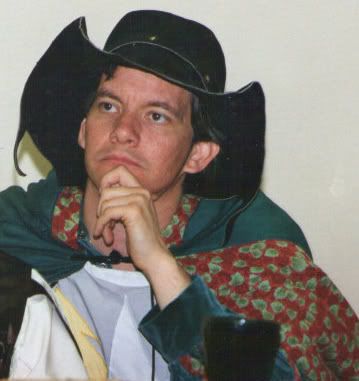 Biography
Sir Andacar joined Dragonspine in 1991 and became one of the original members of the Wardancers company in 1992. Accquired numerous arts and service awards along the way. Received the title of Lord in 1993 from Quicksilver.
Moved to Pegasus Valley in 1994. Retired in 1997 due to deteriorating health, (hopes to return soon).
Character Origin:
Andacar is the third son of Feeran the Desolate, the son of Fandos. His mother was Conacin.' Feeran was a minor noble who lived in a blighted valley in the land of Dazziterca. Feeran's stronghold Gah'andras was under perpetual siege by forces of evil that nobody under his command had ever seen clearly. Shortly before Andacar's birth his brothers Gah'e and Gah'enos were killed by a sortie of the Dark Forces in a field not far from the walls. Feeran had been drinking heavily at the time and came too late to save them. Enraged, he cut off his own left hand and swore no harm would come to his last remaining son. Because of this, he forbade Andacar to ever leave the walls of Gah'andras until he came of age.
Andacar grew within the walls of his father's stronghold and never set foot outside the ramparts as a child. One night, after having read books of ancient lore assigned to him by Feeran's elderly vizier, Andacar swore that he would give anything to be allowed to go free. There was an ominous quiet, and Andacar knew that somehow he had been heard and answered.
Shortly afterward, Feeran felt his old age approaching, and regretted his hasty oath. He led a daring predawn raid on the Dark Forces, catching them completely unaware and driving then far from his gates with great slaughter. Andacar was set free to roam as he willed, and shortly thereafter he met a young maid from a local village, Miya. They fell in love and were quickly engaged to be married. On his wedding day, Andacar let his young bride to the altar in front of his smiling parents and a cheering village. But before the local Holy Man could speak the words of marriage, a great dark cloud rushed up from a crack in the ground and seized the horrified young woman. From within it came a terrible voice that hissed with unearthly, cruel mockery.
"You didst swear, oh youngling, so shall it be. Thy freedom thou hast, and now the price shall be paid. If courage and wit thou hast, come and search for her over all the world. But never shalt thou find thy bride, nor die, nor again find freedom from woe, lest thou answer this riddle. 'What in all the world is most the precious of all things?' And know as thou seekest through all the vain and weary years, that it is that which shall occur to thee last of all."
When the cloud departed, Andacar found himself alone in an unknown country with nothing but the clothes on his back, his father's sword, and a hope. And he wanders the world seeking the answer to a riddle that he knows is deceptive by its very nature.
Affiliated Groups
Belted Family
Notable Accomplishments
Became Dragonspine's first Knight of the Serpent (and PV's first knight) in 1995, knighted by Sir Alaeric Siggurdson.
Artwork
Andacar is a very talented artist: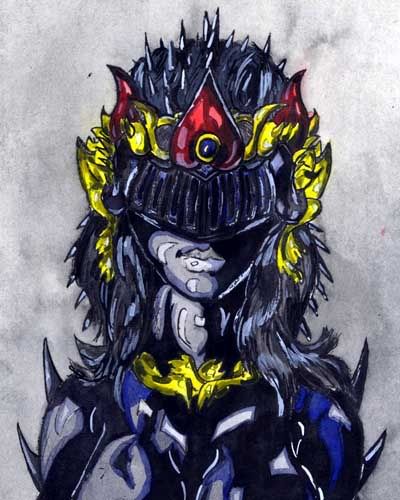 Queen of Swords Card
More Information
Artwork on Elfwood [1]
Personal Website
Company Website
---